Micronutrient Chelate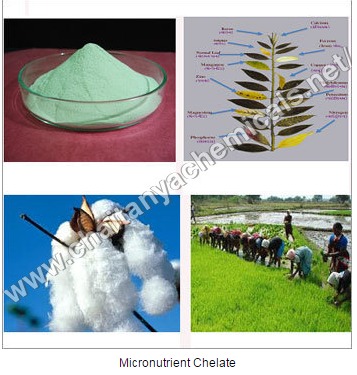 Micronutrient Chelate
Price And Quantity
Product Specifications
Dried Flowers

Micronutrient Chelate
Product Description
In order to fulfill the demands of our clients, we are offering supreme grade Micronutrient Chelate. The offered chelate is processed using high-grade minerals copper, zinc, manganese and amino acids. These are used in foliar spray for plants to maintain quality of the soil. Our qualified professionals follow the micro mixing technique to offer our customers with the best quality Micronutrient Chelate. Before spraying, it is recommended to check the fertility and moisture content of the soil.
Other details:

Mineral Amino Acid Complexes, is a readymade formulations of various minerals like Zinc , Copper , Ferrous , Manganese , Boron, Molybdenum etc with amino acid for crops. It is also used in foliar spray for plants & as tonic or for soil application for improvement rhizosphere flora & . All products are in this categories are available in tailor-made formulation also .

Promin is readymade micronutrient combination Amino Acid base micronutrients with micro mixing technology. These soil micronutrients, crop micronutrient are specially formulated by using state-of-the-art technology for delivering micronutrients with maximum bioavailability, tolerability & safety.

The application of Promin before, during and after the stress conditions supplies the plants with Amino Acids & Minerals which are directly related to stress physiology and thus has a preventing and recovering effect. Promin helps to boost up energy metabolism in the plant.
Promin Grade I (Organic Mix Micronutrient for Soil Application).
Mix Mineral - Amino Acid Complex contains Zn, Mn, Fe, Cu, Mg,& B & in combination. The amino acids (Protein) present in the Promin provide organic nitrogen along with minerals in complex form which is actively absorb & utilized by plant. Plants absorb the amino acids (Hydrolysed Protein) along with mineral ions quickly & easily. Digested protein s has a chelating effect on minerals. When applied together with minerals, the absorption and transportation of minerals inside the plant is easier.

Benefits: Promin Gr. I is a readymade & easily assimilable source of nutrition it helps in pollination & fruit formation. Increases chlorophyll concentration & boosts the photosynthesis activity. It has a high percentage of biological value & nutritive value. No inorganic nitrogen is present. Excess dose is non-toxic as it is organic source. The rate of absorption of these complexes of amino acids is found to be many times faster than ordinary salts of minerals. These complexes also meet amino acid requirements of plant.

Trade Information
Cash in Advance (CID), Cash Advance (CA)

10000 Per Week
2-7 Days

Western Europe, Australia, Middle East, Central America, South America, Asia, Eastern Europe, North America, Africa